The Deathmatch Made in Heaven Pack brings new cooperative and competitive game modes to Max Payne 3's robust multiplayer experience along with a new twist on Arcade Mode. The pack also features a wealth of new weapons, items, bursts, and grinds, along with new achievements and trophies.

Run and Stun

One player starts as Saci, Captain Baseball Bat Boy's nemesis. Saci is a fast, heavily armored character with unlimited stamina and equipped with a Stun Gun and Flash Bangs. Saci adds players to his side with each kill, effectively reducing the number of enemy players on the opposite team. The round ends when the timer runs out or all players are recruited to Saci's team.
Dead Men Walking

A new cooperative take on Max Payne's classic Dead Man Walking Mode. Players assume the role of Max and Passos to take on waves of increasingly smarter, tougher and better armed enemies. Throughout the match, players earn Grit – a currency used to unlock new areas of the map, pain killers, weapons and weapon attachments.

 

Time Attack

A new Deathmatch variant that rewards extra points for kills on the higher end of a timer. The timer starts with each kill, lasting 20 seconds. A kill within 2 seconds of the kill timer nets players the maximum score of 10 points. Every 2 seconds, the value of the next kill decreases by 1 point.
Marked Man
Marked Man is a new spin on traditional Deathmatch that rewards players with more XP for taking advantage of Max Payne 3's Vendetta system. Players earn five points for each Vendetta that they successfully complete and five points for each Vendetta that they survive.

Checkpoint Challenge

A new variant on Arcade Mode that test players' quickness and skill with an array of new challenges, such as taking out all enemies within a level's checkpoint with headshots only or explosive kills. Complete a level in Story Mode to unlock its respective Challenge Mode level.

The Weapons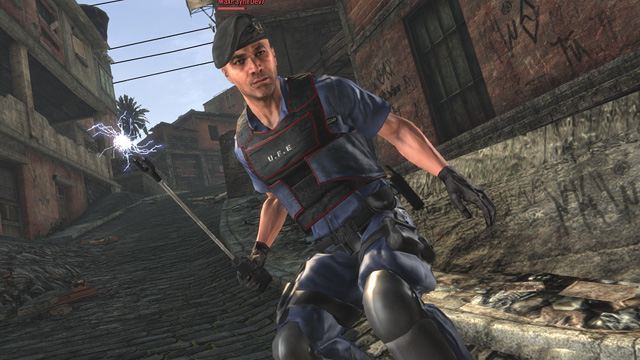 THE CATTLE PROD
Not just for herding livestock anymore. Use the Cattle Prod to get your enemies in line – perfect for running up on opponents in close quarters and freezing them with a high voltage shock before you finish them off with a devastating melee attack. Having a splash effect, this weapon has the ability to hit multiple targets that are bunched up close together in a defensive stance. A bunch of camping bastards waiting around the corner for you? Pop out – zap em – and then calmly unload while they're frozen in shock.

THE NIGHT STICK
The Night Stick has been a reliable tool for civil law enforcement going back to Victorian times. In Max Payne 3 Multiplayer, you can equip it to not only issue a good old fashioned melee beatdown when in close combat –  but also to give the unlucky player on the wrong end of the stick a spawn disadvantage – poor vision, low health and stamina. The Night Stick is particularly useful in team games, where a teammate can get an easy kill on a respawned player.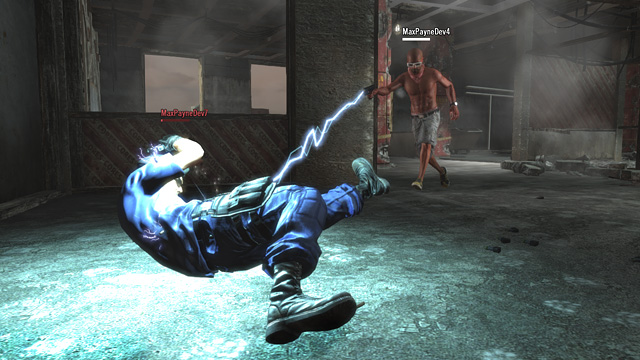 THE STUN GUN
The stun gun is an ideal weapon for incapacitating your enemy. By temporarily cutting off muscle movement, your adversary will be utterly helpless. Capable of making contact from a short to medium distance range, your target will drop to the floor instantly, giving you the ability to end them with ease. The stun gun is especially useful against players with above-average health, such as Takedown targets in Gang Wars or those using the Big Dog and Unstoppable Bursts.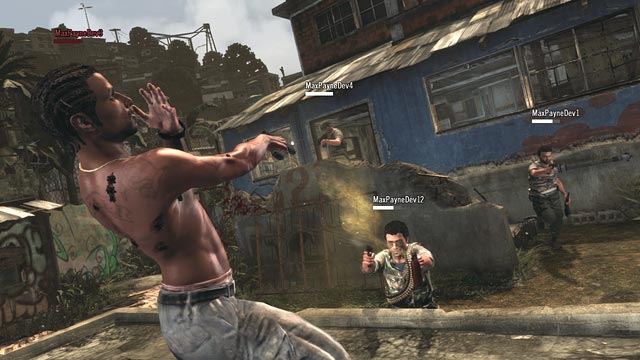 PEPPER SPRAY
Pepper Spray can be a dastardly and beneficial tool. Equip it in one hand with a trusty firearm in the other, and spray it in enemies' faces to temporarily blind them. Then bring the pain. The Pepper Spray has the same blinding effect as the strongest level of the Hangover burst.

THE BOUNCING BETTY
A brand new projectile, the Bouncing Betty is quite the versatile weapon. If you like to snipe, just tactically place a Betty where you think enemies will attempt to sneak attack you and they will be toast. Another helpful strategy is to place them in high traffic movement areas, such as doors and entrances, guaranteeing you some kills. This weapon is also great for Gang Wars during capturing and protecting rounds. The Betty might be smaller than a breadbox but it is capable of some very rewarding destruction.
 

The 

Deathmatch Made in Heaven Pack

 is now available worldwide for 800 Microsoft Points on Xbox LIVE and $9.99 on PC and PlayStation Network in North America. The pack will be available to European PlayStation 3 owners on January 30. Players who purchased the 

Max Payne 3 Rockstar Pass

 can download the pack free of charge. The 

Max Payne 3 Rockstar Pass

 is currently available for 2400 Microsoft Points (Xbox LIVE) or $29.99 on PSN.
The following information was source quoted from Rockstar Press Releases