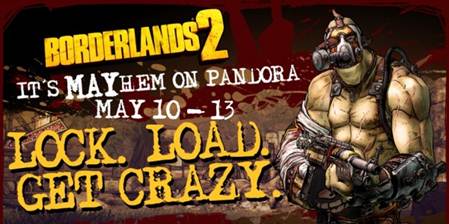 Borderlands 2 fans have something to get excited about today as more mayhem is coming their way. In preparation for the arrival of Krieg the Psycho Bandit on Monday, the Bandits of Pandora have ramped up the production of Bandit gear as they can sense one of their own is near. Starting today through May 13, Borderlands 2 fans can expect to see an increase in Bandit gear drops as well as Badass Psychos while playing online. For more details on the special Borderlands 2 in-game events this weekend, please visit the Gearbox Software blog here: http://www.gearboxsoftware.com/community/articles/1033/borderlands-2-gear-up-weekend–the-beast-approaches/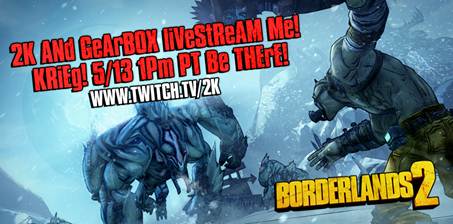 Fans get can also get an idea of how psycho Krieg really is by tuning into the 2K Community livestream this Monday, at 1pm PT at www.twitch.tv/2Kwhere couple of the Gearbox guys will be answering questions and doing a live gameplay walkthrough.
Categorized Under:
AntDaGamer Live
,
Breaking News
,
Featured Content Rotator
,
Features
,
Gameplay Video
,
Media
,
News
,
PC
,
PC News
,
PlayStation 3
,
PlayStation 3 News
,
Previews
,
Top News
,
Top Video
,
Videos
,
Xbox 360
,
Xbox 360 News
,
Xbox 360 Videos
EGM MEDIA, LLC
8840 Wilshire Blvd.,
Third Floor,
Beverly Hills, CA 90211
© 2015 EGM Media LLC. All rights reserved. Trademarks belong to their respective owners.
Website Interface © 2012 EGM Digital Media, LLC.