Welcome to the weekly series of Gaming on a Budget. While video game prices are on the rise, there are plenty of great games, great deals, and great steals for those who don't mind playing games after they have been out for a while. My objective in this article is not necessarily to review games, but introduce you to lesser known games, websites, and deals that may be hard to find. I help you get through the week with upcoming weekend sales, free play weekends, and a recap of games you should always have ready to play.

FREE TO PLAY- Super Mario Crossover- Picture this, you're playing Super Mario Brothers, and your options have always been Mario or Luigi for the most part. With this great online game, you can switch players between Mario (why bother?) Link, Simon Belmont, Samus, Mega Man, Bill Rizer, and MANY MANY MORE. This is a game that you cannot miss out on! Check it out on Exploding Rabbit today!

FRANCHISE DEAL- Alan Wake- Garnishing a 9/10 from IGN, this third person shooter allows you to enjoy it as close to a tv series as it can be. With plot twists, cliffhangers, and six episodes itself, the game has plenty of playtime and replay value, and was awarded the number one spot in Time Magazine's list of top 10 video games of 2010. For $9.99, you can buy the entire franchise including the extras and Alan Wake's American Nightmare. So what are you waiting for? Grab it on Steam

INDIE SPOTLIGHT- Hero Academy- Coming straight from Robot Entertainment, the people who bring you Orcs Must Die! Brings you another fun strategy game called Hero Academy. Customize your team, expand your roster, and battle your friends on the Academy playfields. This is also one of the first cross-platform games where you can fight between Steam and your iPhone. This is one you have to see for yourself, and you can see it, only on Steam!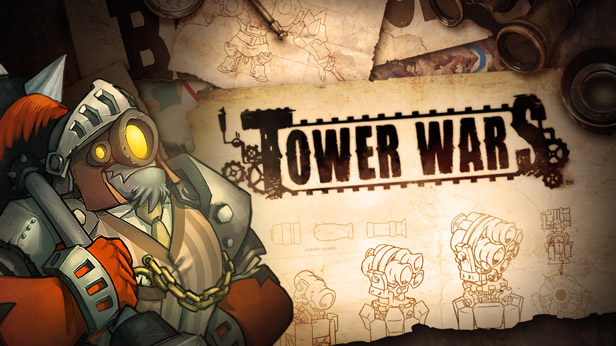 KEN'S SPOTLIGHT- Tower Wars- You'll learn very quick I'm a sucker for tower based defense games. I've written about Dungeon Defenders, Defense Grid, and now Tower Wars. It's my spotlight and I'll do what I want ! Tower Wars is a competitive multi-player tower defense game that combines real time strategy, tower defense, and a unique multi-player experience. It has Steam Achievements for those who are into that, and allows you to play in 1v1 and up to 3v3 ranked matches, as well as online leader boards. A new twist to a fun mod, so sit back, build, and enjoy. This game can be found on Steam like most great PC games!
Thank you for stopping by this week, as I appreciate each and every reader. You can follow me on Twitter if you would like at @RadioInfluence for updates on everything beer, gaming, wrestling, and sports and follow the site at @DigitalNoob_Com for all updates on everything nerd!
EGM MEDIA, LLC
8840 Wilshire Blvd.,
Third Floor,
Beverly Hills, CA 90211
© 2015 EGM Media LLC. All rights reserved. Trademarks belong to their respective owners.
Website Interface © 2012 EGM Digital Media, LLC.