Welcome to the weekly series of Gaming on a Budget. While video game prices are on the rise, there are plenty of great games, great deals, and great steals for those who don't mind playing games after they have been out for a while. My objective in this article is not necessarily to review games, but introduce you to lesser known games, websites, and deals that may be hard to find. I help you get through the week with upcoming weekend sales, free play weekends, and a recap of games you should always have ready to play.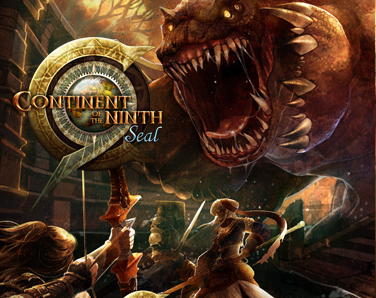 FREE TO PLAY- Continent of the Ninth Seal-Looking for an MMO that is new, exciting, and free to play? Continent of the Ninth Seal mixes in PvP, better controls, and the ability to not lock onto one single enemy when you're in battle. The story is what really shows what Cloud 9 Studio could do, and this is probably one of the better free2play MMO's that I've played, and I'm only about 10 hours into the game! Download it on Steam today!!!
FRANCHISE DEAL-NO FRANCHISE DEAL THIS WEEK

INDIE SPOTLIGHT- Castle Crashers-Along with the cheap price of $14.99, you can also buy a 4-pack for only $44.97 (Buy 3 get 1 free), so just to save you even more money! This 2 D action adventure is probably a favorite for those hack and slashers who have gotten bored of Diablo III. Battle other players, play with your friends, and try your skills in Insane mode. This is one you have to see for yourself, and you can see it, only on Steam!

KEN'S SPOTLIGHT- Jet Set Radio- For those who have lived under a rock for the last 12 years, Sega had one of the best games out, released in 2000 for the dreamcast, Jet Set Radio is a classic from that system. You play a member of a rebel gang named The GG's, and the objective is to gain control of Tokyo-to while dealing with police and the other gangs. Tag your gangs colors in this game, grab it on PSN, XBLA, and of course you can grab it on Steam for under $9.99 .
Thank you for stopping by this week, as I appreciate each and every reader. You can follow me on Twitter if you would like at @RadioInfluence for updates on everything beer, gaming, wrestling, and sports and follow the site at @DigitalNoob_Com for all updates on everything nerd!
EGM MEDIA, LLC
8840 Wilshire Blvd.,
Third Floor,
Beverly Hills, CA 90211
© 2015 EGM Media LLC. All rights reserved. Trademarks belong to their respective owners.
Website Interface © 2012 EGM Digital Media, LLC.