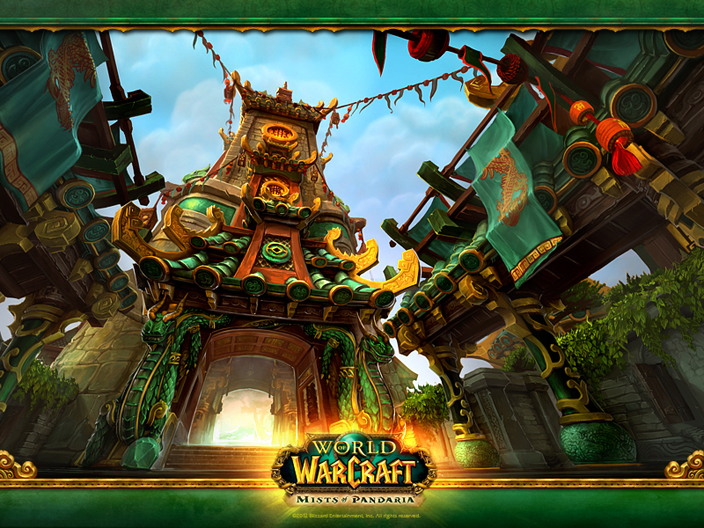 The dungeons in Mists of Pandaria are refined, beautiful and short. Each has boss encounters that will randomly generate so you don't face the same battle time after time after time and did I mention they're beautiful? Far be it from me to judge a game on it's surface value alone, but not only do these new instances feature entertaining (albeit old) mechanics, they have a whole lotta charm. The High-resolution models and environments look great and each instance isn't a time-wallet breaking horror show. Get in, get out, you know the fight or you don't. It's great.
Here are the four new 85-90 dungeons. Besides these the Scarlet Monestary and Scholomance have been reworked into Heroic dungeons.
Stormstout Brewery (levels 85 to 90): Fight giant monkeys and rabbits to attain the ultimate brew.
Temple of the Jade Serpent (levels 85 to 90): A more traditional Pagoda-style tribute to eastern culture where you fight dragons and stuff.
Mogu'shan Palace (levels 87 to 90): Defeat Xin the Weaponmaster to restore balance to Pandaria.
Shado-Pan Monastery (levels 87 to 90): Infiltrate the training grounds of a clan of panda-ninjas (it's as awesome as it sounds).
All in all I've run the dungeons as a healer, DPS and tank, and I will admit that they feel shockingly well balanced. I feel like I'm enjoying Mists of Pandaria too much. I considered the Cataclysm dungeons and 85-87 leveling experience a major failure, but thus far MoP has seem to hit all of the right chords and refine what works before delving into uncharted territory.
Here is a video detailing the Temple of the Jade Serpent. One of my favorites.
Stay tuned for more looks at Mists of Pandaria as I compile the overwhelming amount of new features in this expansion.
EGM MEDIA, LLC
8840 Wilshire Blvd.,
Third Floor,
Beverly Hills, CA 90211
© 2015 EGM Media LLC. All rights reserved. Trademarks belong to their respective owners.
Website Interface © 2012 EGM Digital Media, LLC.