It's subtle, it's addictive, it's Poke-tastic. The new WoW pet battle system is shockingly awesome. Maybe it's because I had zero expectations for what essentially boils down to Pokemon with your nearly 8 year collection of non-combat pets, but I am impressed, seriously impressed. You want a bad pun? I'll give it to you: I'm wowed.
First off, let it be known that every non-combat pet on your account is now accessible by any character (as well as mounts) so a lot of you upon login will get the 'Zookeeper' achievement, so that's nice. Now you can name all of your pets, and organize them by favorites and look at their nice (albeit aged) models. Each pet will need to be leveled individually and the Argent Grunt cannot be used in combat, which bummed me out.
There are 10 pet families, this chart from WoWjuju.com will explain it better than I ever could, and some people are visual learners anyways, here: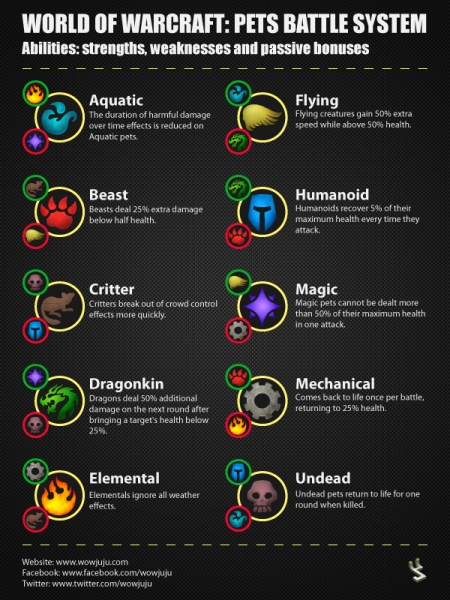 Combat is simple on the surface; you create a team of 3 pets to take into battle, each pet has 3 abilities to choose from – usually one direct damage, one heal/buff and one debuff/secondary damage. Some pets can manipulate the environment to give them passive damage/healing bonuses by changing the weather or adding debilitating objects to the battlefield. What starts out as a simple spam of '1′ turns into a game of chess where proper teamwork is needed in order to win past level 5.
You can get XP for your doods by flying around level-appropriate areas and picking fights with critters roaming around Azeroth, or past level 3 you can queue for battles with other players around the world. You get massive XP for taking out other players (to no detriment for you if you lose) but right now the matchmaking is a bit wonky, and I don't see the rhyme or reason to it at times. It seems like it's trying it's best to group players with a trio of pets close in level, but a single level advantage and just a few HP can be a matter of winning and losing.
Below I delved into the world of Fraps to make a quick video explaining and showing the system vs NPC critters at low level. If you have any questions, please leave a comment and I will be sure to answer as best I can.
Stay tuned for more Mists of Pandaria coverage throughout the week.
EGM MEDIA, LLC
8840 Wilshire Blvd.,
Third Floor,
Beverly Hills, CA 90211
© 2015 EGM Media LLC. All rights reserved. Trademarks belong to their respective owners.
Website Interface © 2012 EGM Digital Media, LLC.