This year myself, my partner Brock Brani, and the host of SHOOTing the Breeze: Tony Ortiz, all went off to Youmacon in Detroit, MI. While Brock and I covered most of the regular Youmacon, Tony covered the Battle Opera. The thoughts are not directly of EGM Now, Digital Noob, and Radio Under the Influence, and are only of the three people who attended the event.
There are four parts that we will be breaking down the event, and you are current only:
Part 1: The Good, The Bad, The Ugly, and The Down Right Weird. 
Part 2: The Battle Opera
Part 3: Detroit is Improving
Part 4: Words of Wisdom
The event started on Thursday evening as most people were in the pre-registration line for upwards of five hours, waiting in line for badges they have already paid for. There was a SNAFU between the hotel and it messed up the CON's ability to do quick pre-registrations. Yes, this is terrible (and the lines were just as bad on Friday and Saturday), however we cannot fully blame the CON for something that was the hotel's fault. It is definitely something to work on.
GRADE: BAD
Starting at 10pm on Thursday night, there was upwards of eight (8) rooms of anime playing. These involved everything from the casual anime watcher to the ones who prefer the 18+ style of shows. There were a lot of different shows that would attract everyone, and separating the rooms between COBO and the Renaissance Center was perfect for those who would want to check out other portions of the convention. It was great for any anime watcher who was looking to watch their favorite animes with like minded people.
GRADE: GOOD
We stayed at the main hotel for the convention, which was the Detroit Renaissance Center, a Marriott hotel. With 16 (yes, 16 elevators) for the 73 story hotel. The five tower rosette is a beauty to be seen on the Detroit river front. It has withstood some bad Detroit years, and is ready to be one of the centers of attention during the rebuild. This was the first year that the Marriott restricted elevator use to guests only, and required all guests (only four to a room) to wear them during the weekend. This put a damper on a lot of people who try to cram as many people as they can into the room to lower costs for the weekend. People were still easily able to make their way around it by either climbing the stairs to a higher floor and getting on the elevator, or climbing the stairs all the way to their respected floor. A few people we knew took the stairs up to the 47th floor, which was crazy, but sometimes when you're saving money, you'll do crazy things. Tony did a set of thirty flights up on the last two days. The elevators although fast, were crowded with the near 13,000-15,000 attendees all trying to get to events, parties and rooms. This is something to work on for the future, but I think the atmosphere will be a lot different next year as there were a lot of grumbles this year about the hotel situations. The rooms were tiny compared to other hotel conventions I've been to including Penguicon and QuakeCON, and the bathrooms were even smaller. You can tell that the hotel portion is one of the downfalls of this convention, and next year I'll probably stay at the Greektown Casino Hotel.
GRADE: BAD
Steam Powered Giraffe Panel
The panels and events were ran well for the most part. A few issues that you would see with any convention as nothing is perfect, but enjoyable none the less. As a press members, we were treated very politely and were able to set up the cameras before the massive amounts of people entered into the panel, and we enjoyed everything we could. Things ranged from panels with Team Four Star, Jon St. John, Linkara, and everything about the Japanese culture and anime. They also had 18+ panels for those who were interested in more vulgar things like shibari (the art of Japanese rope bondage), Mario Party After Dark (which was a real life version of Mario Party that was, for lack of better words, a long continuous gay joke), and Cosplay Speed Dating (where you went on speed dates while under the character you were dressed up as). They also had both PG and 18+ panels of the same people including the Mario Party and Team Four Star, which was beneficial to those who are used to the non-tame likings of these groups. Things were ran well, and the people who attended the events were respectful and had a lot of fun. While I wasn't a fan of a few things, this was probably one of the good things that happened at the event.
GRADE: GOOD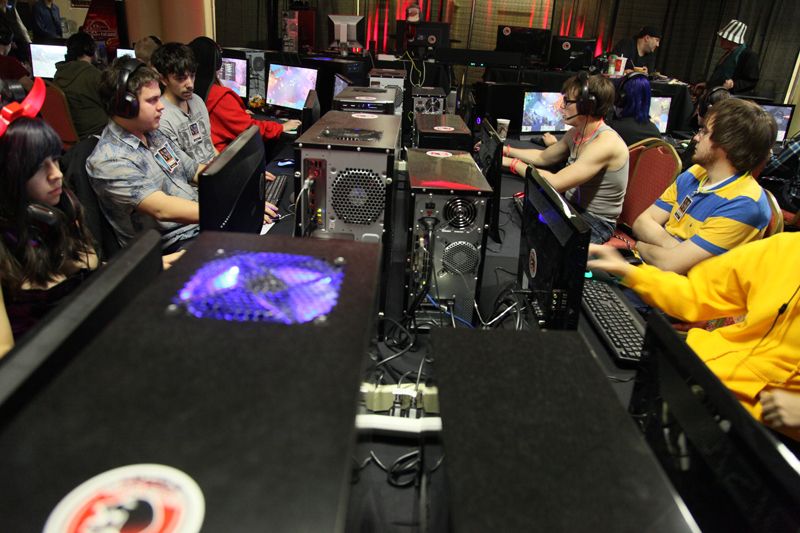 The video game and table top gaming room were hot every time we walked in. From standup arcade games to console games, and nearly every music-style game you can think of including Pump It Up, DDR, Guitar Freaks, and a game that involved banging a giant drum. The table top library allowed for users to rent out any game they wanted to with just an ID. You could play everything from Settlers of Catan, to Dungeons and Dragons, or even setting up your own Magic the Gathering table. The rooms were ran very well, and security / volunteers were alert and continuiously making sure that nobody was doing anything stupid, like having open containers near the electronics. There were even mech pods for you to try out, which are the kind you would typically see at Dave & Busters. Outside the game room included a game of Joust using the Playstation Move Motion Controller. You would attempt to knock opponents out of the game by getting them to move the controller too fast too quick. If you did not check out this area of the convention, SHAME ON YOU! A group of us had a great time beating the original Simpsons Arcade Game.
GRADE: GOOD
One of the biggest issues you have with conventions is that people, for lack of better words, do not practice good hygiene. Whether it is not taking showers, not wearing deodorant, or just being a smelly person, when you get all of them together in one area, it tends to leave a lingering smell. We definitely saw it during the convention on Saturday, and could only imagine how bad the smell would have been at the Saturday night at the rave, which is one of the biggest events of the convention. It's obviously a well known fact for these conventions to have stinky people, but this was definitely one of the worst I've been to (and believe me when I say GENCON is probably one of the worst that I've been to). People who do not practice this confuse me, and as a member of the media as well as an attendee of the conventions, I'm just baffled for some reason every time I can find a convention that is worse smelling than a previous convention.
GRADE: UGGGGGGLY
The Youmacon Battle Opera was its own great entity that had the likes of professional players Justin Wong, Ricky Ortiz, Alex Valle, Romance, Filipino Champ, PR Balrog, Reynald, Yipes and many others, including a lot of local talent. The thousands of dollars in prize money was comparable to other events around the country which allowed the event to attract most of the pros and their sponsers. Focus Fire did a pretty good job undertaking a lot of the tournaments, and with four streams for the first major event that Youmacon has hosted in the realm of fighter gaming, they did a great job. A big thanks to Level Up, Bifuteki, Get Salty, and Clash Tournaments for streaming the event. Check out more at Part 2 for this section!
GRADE:  REALLY GOOD, AND CAN STILL GET BETTER!
One of the worst things to happen this year was probably the press issues that occurred for Youmacon. When we walked in on Friday we were expecting a press kit and the ability to schedule times to do one on one interviews with special guests, as well as see what interview panels were available. It wasn't until Saturday morning that we received the first word from the press Twitter account, and it still took until Saturday afternoon before we could get a more solid answer. The interviews we were excited to get were with Jon St. John, Sonny Strait, Team Four Star, and some of the professional gamers. The first three were cancelled (without notation on the Twitter, or if they did, it was really late), and while we were thankful for Alex Valle and Romance for taking time out of their day to do an interview, we were hoping more of the professional gamers would grant us time interview. We did get short interviews on Friday night with Yipes, Filipino Champ, and Noel Brown. A big thanks to them for taking the time to talk to us, and please click on their names to follow them on Twitter!
GRADE: UGGGGGGLY
For a first year attendee, there are a lot of positives and negatives for the event. The event was separated into two buildings about 3-4 blocks apart, and you could walk on the Detroit River Front, Hart Plaza, or take the People Mover (Monorail) over to the event or back. The People Mover also took you to different parts of Detroit if you were interested in gambling, eating, or just sight seeing (there are great spots in Detroit to go to). We personally give the grade of the event a solid C. There were plenty of great things at the event, and the bad things should be easily fixed (minus the smell).  Make sure to follow us on Twitter for other events and updates, and make sure to check out my website, www.radioinfluence.com, as well as my articles here on Digital Noob.
Youmacon Photos can be found HERE
Youmacon Videos can be found HERE
KenCo12 Twitter
Tony Ortiz Twitter
EGM MEDIA, LLC
8840 Wilshire Blvd.,
Third Floor,
Beverly Hills, CA 90211
© 2015 EGM Media LLC. All rights reserved. Trademarks belong to their respective owners.
Website Interface © 2012 EGM Digital Media, LLC.