Let's continue to wade through the waters of the summer anime season, shall we? As in part 1, you can find all of these shows on Crunchyroll.
Rozen Maiden: Zurückspulen- "Tale 1″


I've never watched the original Rozen Maiden, but this is a reboot of the series, so I believed I don't have to. After watching this episode, I think Rozen Maiden might be the exposition dump champion of the summer season. There is so much background information being thrown about that It's difficult to digest what is going on in the moment. Rozen Maiden is primarily about these magically formed dolls who are engaged in a competition to kill one another, thereby uniting their power and becoming one. That simplifies the story, but I'm not going to rattle your brain with the details the way Zurückspulen did mine.
All of these dolls battling to the death with incredible powers, even while they don't have the ability to open a human-sized door on their own, seems fascinating, but I wonder if too many people will be left dumfounded after the first episode. There is so much Rozen Maiden specific jargon, characters, and relationships that are already established right in the beginning. It might be worth watching, but I feel as bewildered as the young boy, Jun Sakurada, was once dolls started flying around and causing chaos in his bedroom.
WATAMOTE (No Matter How I Look at It, It's You Guys Fault I'm Not Popular!) – "Since I'm Not Popular, I'll Change My Image a Bit."


I'm so glad that the name of the show was shortened to Watamote beforehand. PHEW!
I'm sooooooo down with this show. This is beyond the shows I've seen about NEET or otaku. This is the story of a hardcore dork , and it breaks my heart as much as it makes me laugh.  I have a feeling that Watamote's creator has some insight into how it is to live in the shoes of this extreme of a person. Maybe the creator has some sort of relationship to a real life Kuroki Tomoko. The hypocrisy of hating people, yet wanting to fit in, the awkwardness in social situations, basically living in your own world- it's harshly real.
You may have no interest in watching someone be awkward, frustrating,  and embarrassing, but I am totally sold. I'm tired of show after show full of pretty, well adjusted people. Let's mix it up a bit!
Silver Spoon -"Welcome to Ezonoo"



Does anyone actually ever pray for a show about agriculture to come along? That's why you have to be open about shows that don't look great on paper. I might not have watched Space Brothers, one of the most delightful anime I have seen in at leas a decade.  Silver Spoon has a real Spce Brothers vibe, even sharing music from the same artist.
What Silver Spoon does well is that it authentically replicates agricultural living, and doesn't skimp on any detail. This looks like genuine farm living, and it's funny to boot. I can't call this a meh show, but I was very grossed out by a few scenes in this episode. When you want reality, sometimes reality is nasty. Will you find this show enjoyable? I don't know: how much do you like chicken anuses?
Makai Ouji: Devils and Realist
Why was everyone so frustrated by Free! when this is looks much gayer?
Like superhero comics, after so many decades, we can pick up on the familiar archetypes created long ago. They are heavily imitated, and it takes a really good author to take what's come before and make something fresh out of it. This is not all that fresh. This is another Hellsing, mixed with InuYasha, and it isn't as hard-hitting as either. We begin with a very intimate encounter between our lead demon and a mere human, who has seemed to figure out how to best such a powerful demon.
Fast forward, and William Twining has been hit with bad luck. He's out of money, and his mansion has been picked clean. The only inheritance he has left is that he belongs to the bloodline of Solomon, the crafty human we saw at the beginning of the episode. So, like I said, we've seen all of this before. The demon Dantalion will get into battles with other demons, and William will be in tow. There's not much else to it, except for the stupid belief that William has, that everything can be explained with science. It's a silly character to have in a show where things already are too crazy to explain away as natural phenomena.

Sunday Without God –

"Valley of Death I"
On top of blashphemy, you are also treated to a nude loli.
What is shocking about this show is not its concept, a world where God has abandoned his creations, leaving them to be zombies that cannot die. I think what was more shocking was that this guy, who may very well turn out be an android or cyborg, gives this little Gravekeeper a hellacious boot to the face. Damn, Vegeta from DBZ has nothing on this dude.
It's weird. This show gives me a strange, icky feeling, like this was an erogame turned into an anime. I know that's a big accusation, but I'm seeing the dialogue between this girl and some strange man, and I'm not feeling comfortable. If I do watch another episode of Sunday Without God it would be to see if this show has any merit to it, or if it is as creepy as I suspect it being.
 Gatchaman Crowds – "Episode 1″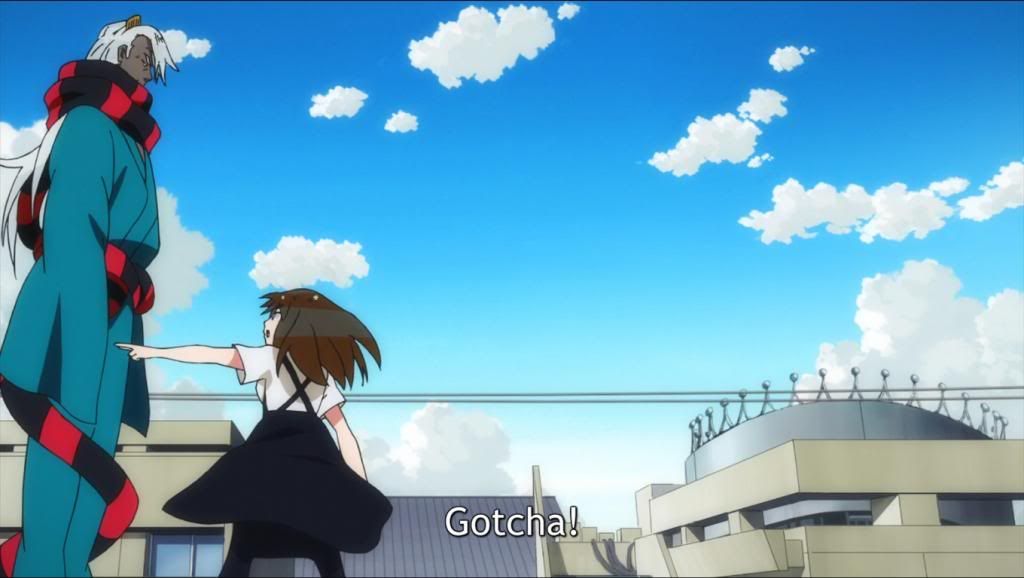 This show is so annoying! Will you ever shut up, Hajime? I second-guessed myself while watching Gatchaman Crowds, thinking that maybe my age has removed the tolerance needed to enjoy this show, but I believe that many watching this show will be bugged by this girl who has been chosen to as a hero, for some reason. The Gatchaman organization has very low standards when picking their candidates. If you know Gatchaman, then you know that this show has so very little to do with the original Gatchaman. It could've been named anything else. I guess sometimes you have to use a name to grab a built-in audience.
Crowds is going to need as much good will as it can find, because this girl, Hajime, is probably the most irritating character I have ever seen in an anime. Her presence alone makes me want to never watch this show ever again. Putting Hajime aside, the whole show stinks of trying too hard, and of throwing out any and every idea that comes to mind. The creators of this alternate Gatchaman world could've used an editor, or just a voice or rationality. I will say that the Gatchaman suits look cool, but Gatchaman Crowds is the equivalent of a kid eating a giant bag of candy. Eventually all the bouncing off the walls and being silly becomes unbearable.
Yamishiabi Ghost Stories – "The Talisman Woman"


There's nothing special about this horror series. It's one of those short shows, less than 5 minutes in length, and it's done (at least in the first episode) in the style of an animated manga. If you've ever seen a motion comic, this is pretty much the same thing, but with even less motion. The first episode is a little creepy, but not scary. It's already started off weak, so does Yamishibai have any ability to scare its audience in less than 5 minutes? I'm not quite sure.
That's all the brand new shows Crunchyroll's streaming, but there's still more to review! Our look at this summer's anime continues with what's on Hulu.
EGM MEDIA, LLC
8840 Wilshire Blvd.,
Third Floor,
Beverly Hills, CA 90211
© 2015 EGM Media LLC. All rights reserved. Trademarks belong to their respective owners.
Website Interface © 2012 EGM Digital Media, LLC.