If you are still looking for anime to watch this summer after reading my Crunchyroll rundown, here are the anime streaming on Hulu. These shows come from Funimation and Viz Anime.
Blood Lad – "Now She's a Skeleton"
I think Blood Lad is a hard sell for anyone who's not a boy with his hormones raging. The style, the pacing, the jokes, it screams out to anime-loving youth, begging them to stay for just one more episode. Blood Lad is about a vampire, but his  interests aren't like most creatures of the night. He lives in a demon world, but he loves many human inventions and creations. Vampire Staz gets his chance to nab some human souvenirs when a human girl wanders into the demon world, and a portal to the earth is left open.
Blood Lad's not classy, but it's got style, and sometimes that's all I'm looking for. I'm also really interested in the setting. Usually a story will involve vampires living amongst humans in the human world, but now we get to see the hierarchy amongst supernatural beings.
Brother's Conflict -"Brothers"
This show has one-upped any reverse harem I've seen. there is basically a baseball team sized family  of brothers who are living in a massive, beautiful house together. Oh, and now they have a new step-sister, who they all, naturally, want to either romantically grope or sleep beside. The only protector she really has is her talking squirrel mascot buddy. He fruitlessly tries to shoo all the boys away, but all they hear are chirps. The only one who can hear this annoying squirrel is the girl, Ema. Is this girl insane, or does she actually have a magical squirrel that only she can hear?
Every boy has a great profession or talent, and there's even a shota brother in the mix. There is no bishounen stone unturned in Brother's Conflict. No sir! Even if I hated this show, which I can't bring myself to do, anyone who loves bishi fanservice will take one look at these characters and disregard anything negative I've said. This review is basically useless. Brother's Conflict is critic-proof.
Hyperdimension Neptunia – "Planeptune's Goddess (Neptune)"


TITTY TIME!
I went from thinking that I would rate this as a bland anime, but by the end of the pilot episode, I have realized that no one needs this anime. It tries to be cute and loveable, but I think it fails at that.Neptunia is the moefication and anthropomorphism of the current gaming consoles. Maybe this concept works for the Hyperdimension Neptunia game, but as an anime it's a shameless excuse to flash lady parts.
Neptunia's full of female characters, and at one point are another they are all objectified. All these girls magically transform, becoming completely different looking people. So if a girl is underage, or flat-chested, she can still become a boobieful! SIGH. I would also like to spoil what happens in the first fight we see on the show. A bunch of these dogs-mixed-with-slimes attack, and these girls are so overwhelmed by the dogslimes that they get the blue goo all over their bodies, and the slimy dogs are basically raping some of the girls. I am not joking. It looks like a hentai rape scene dialed back so it could be in a PG-13 movie. I want nothing to do with Hyperdimension Neptunia. It's just girls babbling, and when the girl's aren't babbling, they're probably going to be put in some sexually suggestive positions. Crap.
Danganronpa: The Animation -

"

(Not) Normal Arc: Kill and Live

"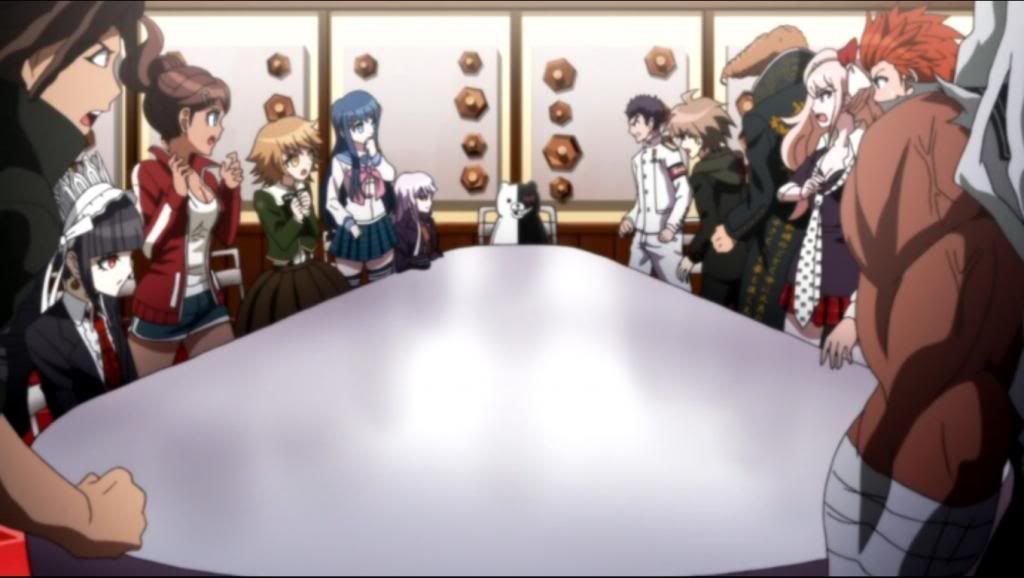 With a room full of so many people, you would think that you could find somebody to resonate with in the cast of Danganronpa. Nah. These students, invited to become part of a very special school, look like they're discarded Yu-gi-oh! designs, and our hero is nauseatingly bland. The most interesting character is the principal, who is the type of bear Two Face would love. This bear, Monokuma, hosts a murder game, and the students are his contestants.
This is another game, and, again, it probably works better as a game than as an anime. I don't care about anything happening here! I've seen anime and film that deal with twisted games, but you can't serve up flat characters and hope that we root for them. Wacky hair, a nice figure, or interesting costumes don't deflect from how worthless your show is. I didn't even get far into Btooom! but the show at least gave you some desire to know what horrible thing will happen next. Some games just aren't worth adapting.
EGM MEDIA, LLC
8840 Wilshire Blvd.,
Third Floor,
Beverly Hills, CA 90211
© 2015 EGM Media LLC. All rights reserved. Trademarks belong to their respective owners.
Website Interface © 2012 EGM Digital Media, LLC.